Contacter l'auteur de ce blog
Sommaire
CALENDRIER
| | | | | | | |
| --- | --- | --- | --- | --- | --- | --- |
| Lun | Mar | Mer | Jeu | Ven | Sam | Dim |
| | 01 | 02 | 03 | 04 | 05 | 06 |
| 07 | 08 | 09 | 10 | 11 | 12 | 13 |
| 14 | 15 | 16 | 17 | 18 | 19 | 20 |
| 21 | 22 | 23 | 24 | 25 | 26 | 27 |
| 28 | 29 | 30 | 31 | | | |
| | | | | | | |
<<
Août
>>
Ajouter microot à vos favoris
Northrop Grumman Corp of Redondo Beach, CA, USA has developed the world's fastest integrated circuit amplifier, which has been recognized by Guinness World Records. The amplifier uses 10 transistor stages to reach an operating frequency of 1 trillion cycles per second — surpassing the firm's own record of 850 billion cycles per second (850GHz) set in 2012.

Researchers have long sought to exploit the terahertz high-frequency band lying between microwaves and infrared light waves in the electromagnetic spectrum, but have been unable to detect, process and radiate the necessary high-frequency signals without resorting to frequency translation or multiplication.

Northrop Grumman's terahertz monolithic integrated circuit effectively bridges the gap by using a super-scaled 25nm gate-length indium phosphide high-electron-mobility transistor that measures at a gain of 10dB at 1THz and 9dB at 1.03THz. In comparison, existing smartphones operate at 1-2GHz and wireless networks at 5.7GHz.

The circuit is the culmination of the firm's three-phase contract with the US Defense Advanced Research Projects Agency to demonstrate transistor-based electronics operating at 670GHz, 850GHz and 1THz. All three milestones were completed by Northrop Grumman within five years.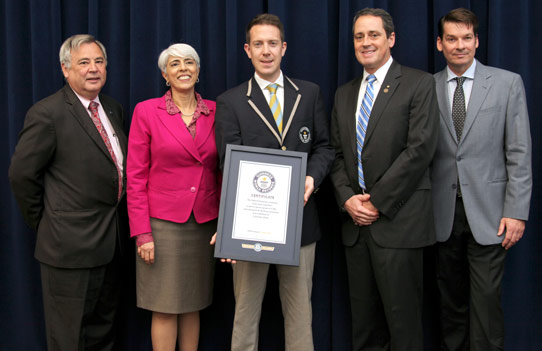 "This breakthrough by the Northrop Grumman team could lead to revolutionary technologies such as high-resolution security imaging systems, improved collision-avoidance radar, communications networks with many times the capacity of current systems, and spectrometers that could detect potentially dangerous chemicals and explosives with much greater sensitivity," comments DARPA's Terahertz Electronics program manager Dr Dev Palmer.

Additional applications of the THz circuit could include atmospheric sensing, radio astronomy and medical imaging. It is also expected to improve system range, and to reduce the size, weight and power consumption of existing systems.

"A decade ago, there was no consensus in the scientific community whether an integrated circuit operating at 1 terahertz was technologically possible," says Northrop Grumman's Terahertz Electronics program manager Dr William Deal. "An interdisciplinary team of scientists and engineers worked together in scaling all facets of our MMIC technology to enable this result," he adds. "Now, as a result of DARPA's investment in high-speed transistor processes, it will become routine to fabricate wafers containing thousands of terahertz integrated circuits."

DARPA has made strategic investments in terahertz electronics through its High Frequency Integrated Vacuum Electronics, Sub-millimeter Wave Imaging Focal Plane Technology and Technology for Frequency Agile Digitally Synthesized Transmitters programs. Each program built on the successes of the previous program, providing the foundational research necessary for frequencies to reach the terahertz threshold. Northrop Grumman has partnered with DARPA on each program.
Tektronix, Inc., a leading worldwide provider of test, measurement and monitoring instrumentation, has introduced a new class of affordable spectrum analyzers based on a USB architecture with prices starting at £2,340.

The new RSA306 sets a new price/performance threshold for spectrum analyzers and features a broad 9 kHz to 6.2 GHz frequency range, 40 MHz real time bandwidth and weighs in at just 1.2 pounds. When used with Tektronix SignalVu-PC software, it offers advanced analysis capabilities for such applications as budget-conscious research and development, mobile radio network installation, interference hunting and university level lab classes. Spectrum analyzers are inherently expensive and often there are not enough instruments for everyone to use in many labs, field organizations and universities. The RSA306 puts the power of a Tektronix real-time spectrum analyzer within reach for the entire technical team. In addition, Tektronix is providing its SignalVu-PC software at no cost, giving open access to powerful signal analysis tools that have previously been only available with the purchase of expensive bench instruments.

"As with nearly all areas of electronics design and test, requirements for RF and microwave test are changing quickly leading to the need for new instrumentation approaches," said Jim McGillivary, general manager of RF and Component Solutions at Tektronix. "As the introduction of RSA306 demonstrates, we're moving aggressively to address these changing requirements across multiple market segments with innovative, industry leading test and measurement solutions."

The RSA306 is Tektronix' first USB spectrum analyzer and will be joined by similar instruments taking advantage of the availability of affordable desktop computers and laptops with sufficient processing power to handle complex test and measurement analysis along with high-speed USB 3.0 interfaces. At its introductory price point, the RSA306 is a fraction of the cost of a conventional spectrum analyzer while offering comparable or even superior sensitivity, accuracy and dynamic range. Featuring a 9 kHz to 6.2 GHz frequency range with 40 MHz instantaneous bandwidth, the RSA306 offers the industry's best performance in a USB spectrum analyzer. In addition, its real-time processing capability is at least 1,000 times faster than spectrum analyzers from other major suppliers. It works seamlessly with SignalVu-PC, the most complete signal analysis suite for a USB instrument that leverages seven generations of real-time capability improvements. An open API allows customers to use their own custom Windows-based interface such as Matlab or Python to manipulate raw data coming from the instrument.
Cryopreserving organs and masses of tissue has improved significantly, but the thawing of these organs has not. Now an approach using radio frequency (RF) and magnetic nanoparticles may allow uniform thawing that avoids the damage seen with heating before.

Organ transplants are often limited by time. When a donor becomes available, the tissues must be harvested rapidly and then delivered to a recipient within a relatively short timeframe to prevent damage to the organ. Because of these limitations, only a certain distance can be travelled before implantation must occur—a problem that would be solved if tissues could be cryopreserved.


Efforts to cryopreserve tissues and organs have made significant advances, but those tissues and organs must also be thawed, a separate process that is subject to limitations with current technology. An international research team led by the University of Minnesota may now have made a significant step forward in this area by using RF-heated MNPs, according to a recent press release from World Scientific.

"Avoiding ice formation and the associated tissue injury during cryopreservation of bulky biomaterials has led to a focus on vitrification in recent times," said Michael Taylor, Ph.D., an expert cryobiologist, Adjunct Professor at Carnegie Mellon, and VP of Cell and Tissue Systems, in the press release. "While this approach has been successfully applied to small cell aggregates and thin tissues, extrapolation to larger bulk tissues of a clinically relevant size has thus far failed... Progress in developing appropriate cooling technologies to achieve vitrification has advanced more rapidly than complimentary warming techniques, which now present the principal stumbling block."

When dispersed into the bulk of the tissue, mNPs are capable of evenly distributing heat throughout the tissue, according a study published by the team in Technology. Using radiofrequency to vibrate the particles, heat is distributed throughout the specimen, avoiding heat transfer that comes from the outside to the inside, as seen in more common "boundary" heating processes. Using this method, heating can be conducted at very high rates, which helps avoid the problems seen historically.

In addition to the thawing advances, the team has developed a micro-computed tomography approach to be used in quality control activities, according to the study. The difference in density between thawed and frozen tissue can be detected with micro-CT, allowing a thorough understanding of the cryopreserved status of the tissue.

While transplantation of organs is an essential and life-preserving technology, the hope of generating complete artificial organs is a major driving force in the tissue engineering space. Recently an article published on Med Device Online discussed a regenerated thymus that was cultured and then implanted into a mouse to create a completely functional replacement organ.
CMOS RF program will multiply quickly rising trend of things. To accelerate the popularization of the Internet of Things devices and applications, the industry is actively developing cost as low as $ 1 a wireless sensor network node, causing the system needs a substantial price reduction of key components; this regard, RF chip vendors are brewing to replace the conventional CMOS process arsenic gallium program, more than half of the wafer to reduce the cost, ultra-low-cost WSN.

Raymond Biagan RFaxis vice president of worldwide sales, said through a lot of things have to WSN, in order to achieve device interconnect tens of billions of dollars, so the relevant industry WSN system for critical RF component cost extra attention, and treated as acceleration things important catalyst popular devices. With the dramatic increase in cost pressures RF, starting from the wafer are also more expensive GaAs process, steering standardization, price close of silicon germanium and CMOS RF solutions; which, CMOS RF performance comparable in GaAs under the premise of the product, reduced by more than half of the manufacturing and test costs, and achieve a higher degree of integration components, also has become the focus of the industry layout.

RFaxis Qian Yong, vice president of marketing and product application hi supplement, a number of international market research firm has made networking market forecasts, most are considered 2020 as a whole will be watching ten billion networked devices, but to support such a large number of device interconnection scenarios, WSN costs must be below $ 1 in order to build wide cloth, accelerate tissue intact things road. In other words, RF wafer supplier to break into the networking market, it is necessary to cut costs as a top priority, think about how their products meet the $1 less than the price of the terminal equipment.

Although GaAs RF chip is still the mainstream market, shipments accounting for up to Jiucheng, but confined to the special nature of the process and materials, both in production and design costs are costly, coming in low Things tilt lower cost RF design trends, CMOS RF aura will gradually be replaced.

Qian Yong-hi, frankly, to put his past GaAs foundry industry experience, this program designed to meet the $ 1 terminal is almost impossible task, so is bound to accelerate in the coming years to carve CMOS RF GaAs RF market share expected from 2014 about two one million shipments, a significant jump to 2018 of two hundred million shipments.

In addition to cost, networking device developers are also very concerned about the RF wafer transfer efficiency and size in order to achieve lower power consumption and small size of the WSN, built to alleviate the difficulty of cloth. Biagan emphasized that the program compared to GaAs, CMOS process helps improve the power amplifier, low noise amplifier (LNA), receive switching circuitry, matching network and harmonic filters (Harmonic Filter) and other RF components integration. In RFaxis, for example, has developed a CMOS process integration through the above-mentioned elements RFeIC products can replace conventional PA and other separate RF chip design, or RF front-end modules for system operators to secure more design space, while reducing testing burden.

At the same time, CMOS RF through the low-voltage design also significantly reduces the power consumption and operation of the drive. Qian Yong-hi, analysis, gallium arsenide and silicon germanium RF-based processes and material properties, at least 2.6 volts conduction voltage to drive, and shall supply 3.3 or 5 volts to continue to operate; contrast, CMOS only need 1.2 volts and 2.4 volts driving voltage operation voltage, currents are equal under the premise of the system, power efficiency as high as 30 to 40 percent will help enhance the efficiency and linearity RF transmission.

Qian Yong-hi, also revealed that the latest generation of wireless LAN standard 802.11ac Wave 2 specifications for RF components are very particular about not only required to achieve linearity performance of -40dB EVM, and also to signal distortion control in 1% or less. In this regard, RFaxis of single-chip CMOS RF specifications have been the first touchdown, communications chip suppliers are working together to develop relevant reference design is expected in time for the 2015 market; Netcom currently more than one plant, but has plans this element column the first wave of procurement list, replace existing RF GaAs wafers.
Toshiba Corporation today announced that the company and India Electronic Corporation of India Limited (ECIL) cooperate to obtain a supply of mobile X-band dual-polarization Doppler weather radar system to India Meteorological Department(IMD) orders. The radar is supplied by Toshiba for the first time outside of Japan to weather radar will be installed in January 2015 in India, Srinagar, Jammu and Kashmir.

Prolonged or local catastrophic floods caused by heavy rainfall locally has become a significant problem worldwide, especially in India and ASEAN countries. Weather radar to track cloud movement, real-time pinpoint a potential threat to the system, thus helping the authorities issued a warning, ordered the evacuation.

Since August 2012, Toshiba has been working with the Indian Electronic Enterprise Co., Ltd. to cooperate weather radar regard. This order is based on the current positive comments on both sides of joint programs, the program takes advantage of Toshiba in Japan has accumulated rich experience in the supply of weather radar, as well as India Electronics Enterprise Co., Ltd. in India local business support capabilities. Previously, Toshiba has provided similar radar products to the Japanese Ministry of Land, as well as major universities and research institutions.

India's National Climate Council to supply mobile X-band dual-polarization Doppler weather radar system covers the range up to 80 km, and its shorter wavelength provides support for high-resolution imaging of rainfall and wind speed. Compared with the equivalent of tube-based radar, and its size is only 25% of the former, while energy consumption is only 10%.

Toshiba is the weather radar technology leader. August 2012, Toshiba to join Osaka University and National Institute of Information and Communications Technology (NICF), developed the world's first*equipped with digital beamforming technology, phased-array radar, capable of simultaneously observing 10 direction. The radar can be collected within 10 seconds 3D rainfall observations, the speed is 20 times that of traditional systems, and can be used to observe storms and hurricanes and other unexpected weather events. Such weather events are usually cumulonimbus in 10 minutes in a short time due to the rapid accumulation, while Toshiba's system is able to provide an update within one minute.

Looking to the future, Toshiba will continue to offer the most effective products to meet their needs and solutions. The company is committed to advance disaster by providing detection technology, to achieve a more secure contribute to society.
|<< <<< 1 2 3 4 | 5 | 6 7 8 9 10 11 12 >>> >>|