Contacter l'auteur de ce blog
Sommaire
CALENDRIER
| | | | | | | |
| --- | --- | --- | --- | --- | --- | --- |
| Lun | Mar | Mer | Jeu | Ven | Sam | Dim |
| | 01 | 02 | 03 | 04 | 05 | 06 |
| 07 | 08 | 09 | 10 | 11 | 12 | 13 |
| 14 | 15 | 16 | 17 | 18 | 19 | 20 |
| 21 | 22 | 23 | 24 | 25 | 26 | 27 |
| 28 | 29 | 30 | 31 | | | |
| | | | | | | |
<<
Août
>>
Ajouter microot à vos favoris
ALLEN, Texas, Oct. 9, 2014 /PRNewswire-iReach/ -- Fairview Microwave Inc., a preeminent supplier of on-demand microwave and RF components, has recently added a comprehensive selection of industry-leading RF amplifiers including power amplifiers, broadband amplifiers, gain blocks, limiting amplifiers, low noise amplifiers (LNAs) plus more.


Fairview's new line of amplifiers perform across a host of commercial and defense applications such as wireless communications, telecom infrastructure, radar, electronic warfare, sensors, test instrumentation, microwave backhaul, and many others. Given the broad range of performance characteristics in this amplifier release, customers can find the right solution for a wide variety of applications. RF amplifiers from Fairview Microwave provide the user a choice of gain levels, frequency ranges, power outputs, noise figures and exhibit outstanding gain performance and gain flatness.

These new RF amplifiers provide operation up to 26.5 GHz depending on the model, gain levels ranging from 15 dB to 50 dB, power output ratings (P1dB) from 10 mW to 20 Watts, noise figures ranging from 0.8 dB to 2 dB and gain flatness down to ±0.5 dB. This initial release of close to 50 connectorized RF amplifiers marks the company's first endeavor into the active RF components market and helps establish Fairview Microwave as a leading supplier of off-the-shelf RF amplifiers. Fairview is currently in the process of broadening their amplifier and active components lines even further and anticipate having one of the industry's largest selections of immediately available amplifiers in the coming months.

"We are very excited to announce the release of our brand new offering of RF amplifiers to the market," says Greg Arnold, Technical Sales Manager at Fairview Microwave. "The addition of this new product category is the culmination of years of hard work and we're proud to be able to offer our customers new off-the-shelf amplifier solutions previously not available at Fairview."


Turnkey back-end production services firm Presto Engineering Inc of San Jose, CA, USA, which provides semiconductor product engineering & test services to both integrated device manufacturer, fabless and electronics companies, has introduced a wafer-level E-band RF(radio frequency) testing service for semiconductor products. The production-scale testing service delivers a high throughput, cost competitive, end-to-end solution and is the first such service to be offered by a non-captive provider, says the firm.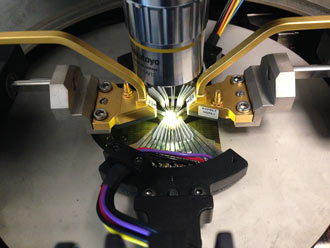 "The testing needs of the industry are simply now too large in volume, and aggressive in cost, to rely only on functional application testing," says Cédric Mayor, Presto's VP marketing. "We have developed a production-ready wafer sorting pilot line that enables us to scale test cell productivity to production-worthy throughput on 4- to 8-inch wafers, while reducing test cost and maintaining test quality. We designed this line to specifically address the advanced testing needs of E-band power amplifier manufacturers, and we are now ready to roll out capacity."

Demand for testing in the 71-86GHz band is being driven by rapid growth in the telecom backhaul segment, which transports data from cell sites in the peripheral radio access network to the wireless packet core, adds Presto.

"We are currently capable of testing more than 300 wafers per year per test cell. The full waveguide design avoids potential problems of connectors and cables and delivers repeatability of less than 0.2dB wafer-to-wafer between insertions, despite an output power of 25dBm per site," Mayor continues. "The service is completely turn-key, including state-of-the-art incoming and outgoing inspection and conditioning processes for ultrathin 50-micron-thick gallium arsenide wafers. In fact, we have achieved near-zero breakage rates on gallium arsenide wafers, and we are currently developing similar test capability for gallium nitride, which we expect to be ready to be rolled out in 2015, pushed by the RF power amplifier market demand."
Leading microcontroller and touch solutions provider Atmel Corporation recently forged a strategic alliance with IHR GmbH, an independent manufacturer of innovative electronics products for the automobile industry, to spur innovation in Local Interconnect Network systems. The collaboration is expected to benefit the overall automotive industry by developing cost-effective innovative products with improved integration and intuitive configuration capabilities.

Low-cost LIN systems are typically used throughout the automobile industry for comfort, power-train, sensor, and actuator applications. The business tie-up intends to leverage on IHR's LIN configuration tools and pioneering embedded solutions of Atmel to improve application integration, time-to-market and minimize licensing costs. This would further enable Atmel to provide a LIN-compliant evaluation environment to vehicle manufacturers to bring the best of automotive engineering faster to the market.

Atmel reportedly has the largest LIN product portfolio in the industry, including stand-alone transceivers, system basis chips, MCU-based system-in-package and application-specific devices. The company's broadest in-vehicle networking product portfolio and embedded MCUs deliver the power, performance and flexibility to support a wide range of automotive applications. The collaboration with IHR is expected to further augment its product development capabilities and strengthen its presence in the market.

Based in San Jose, CA, Atmel designs, develops, manufactures and sells integrated circuit products. These products include MCUs, advanced logic, mixed-signal, non-volatile memory and radio frequency (RF) components. Atmel produces non-volatile memory that stores information after power is turned off and combines this with MCUs, digital signal processors and other logic to meet the needs of its customers.

Atmel currently has a Zacks Rank #3. Other stocks that look promising in the industry include Ambarella, Inc., Avago Technologies Limited and Rambus Inc., each carrying a Zacks Rank #1.
The stock market ended a rollicking week with a strong rebound on Friday, which wiped out most of the week's losses but still left the Standard & Poor's 500 index 6.2 percent below its record close Sept. 18.

Analysts give lots of reasons for the sell-off, but none are particularly new or convincing.

There are more signs of a slowdown in Europe, which could hurt U.S. multinationals, but Europe has been weak for years.

There's fighting in the Middle East and in Ukraine.

The dollar is rising.

Oil prices are plummeting.

Ebola has killed one person in the United States.

What really happened is that stocks were overdue for a pullback. The last time the S&P 500 fell more than 10 percent — considered a correction — was in mid-2011, when it tumbled 19.4 percent over about five months.

Sometimes, there is a reason. In 2011, S&P downgraded U.S. Treasury debt, sending shock waves through the global financial community.

But sometimes, "it's difficult to identify the exact reason why a sell-off happens," says David Samra, lead manager of the Artisan International Value Fund. "It gets to the point where someone pushes a button, other people push buttons, it snowballs."

John Allen, chief investment officer with wealth management firm Aspiriant, said his firm has been telling clients all year to "expect less from their investment portfolios." Low interest rates, engineered by central bankers, "have led to overvaluation of stocks and fixed income across the planet," he said. Even with the pullback, "We are still in a globally overvalued world."

Howard Simons, president of Rosewood Trading, also thinks stocks are still overvalued. "This is not a 2008 type of situation," he said. "We are not going into a major recession. We are not going to be living in caves and eating bugs anytime soon."

But, "a lot of this excess cash growth around the world that has been flowing into financial markets" is going to be shut off and stocks need to be repriced to reflect that. "You can take your dreams of 20 percent returns from now until the end of time and put them in your closet with the bowling balls."

Other money managers saw last week as a buying opportunity. "We had been having trouble finding things to buy," said Jerome Dodson, who manages the Parnassus funds. We had new money coming into the funds. I was looking for things. Then suddenly boom, things go 5, 10, 15 percent below" where they had been.

API Technologies Corp., a leading provider of high performance RF/Microwave, power and security solutions for high-reliability applications, today announced the launch of a new product configuration tool that helps engineers modify standard API Technologies' RF/Microwave products to meet their unique design parameters.


Initially offering configuration options for synthesizers and amplifiers, API plans to expand the tool to other products in the future. Current customization options include frequency range, noise figure, gain, output intercept points, power supply voltage, as well as preferred package style.

API's new design tool enables users to create a performance-based model of their chosen design, in real time. Once complete, users can print out a configuration summary or share their design via e-mail and social media. Users may also come back to their configuration at any time to collaborate with team members or modify performance criteria.

"With the configuration tool, engineers can easily modify an existing standard design based on their own unique performance criteria, which can reduce up-front engineering and development time, and result in cost savings and shorter lead times," said Dennis Barrick, Technical Marketing Director, RF Microwave & Microelectronics, API Technologies.

This online tool complements API Technologies' suite of standard and configurable products, which has expanded to include the recently released family of affordable, surface mount synthesizers and full line of high frequency, broadband amplifiers.

"API's expanded availability of RF/Microwave standard and configurable products allows us to extend our geographic reach, as well as offer better value to customers by streamlining the design process," said Tara Condon, Vice President of Corporate Development.

API Technologies has a long and successful heritage in the development and manufacturing of standard, configurable, and custom RF, microwave, and millimeter wave solutions for military, commercial, and space applications. Featured product offerings include: filters, GaN-based high power amplifiers, switched filter banks, integrated microwave assemblies, system-level-ready active sub-arrays used in AESA radars, power management products, and hybrid microelectronics.
|<< <<< 1 2 | 3 | 4 5 6 7 8 9 10 11 12 >>> >>|